Top Reasons To Investing in OTT App Development
→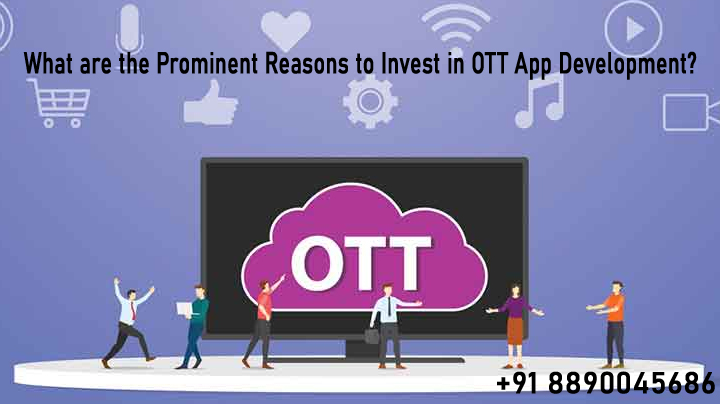 The fast development of internet connectivity, which has already reached 5G speeds, plus the rising popularity of smart TVs over conventional TVs, has made OTT the talk of the entertainment business. Recent predictions place the OTT video market's revenue growth between 2023 and 2027 at 11.60%. The numbers predict revenues of $ 275.30 billion in the year 2022. It is expected that even traditional TV networks would suffer from the proliferation of OTT-enabled smart TVs. Therefore, launching your own over-the-top (OTT) platform is your best bet if you want to succeed as a digital content curator.
If you're debating whether or not to invest in developing an over-the-top OTT app development company, this article will explain why you should and what you'll gain. All of these are discussed, and an excellent suggestion for making your own OTT platform with minimal outlay of time and resources is provided in this article.
What are OTT apps, and why are they so well-liked by viewers?
Over-the-top platforms are becoming more widely used, indicating their importance in the success stories of business people who became extremely wealthy by developing apps that provide OTT app development services for various media & entertainment categories.
Returning to the topic, OTT stands for Over-The-Top and is a popular idea for getting immediate access to on-demand video streaming content on any WIFI-enabled device. Besides satellite and cable subscriptions becoming less and less popular, most companies are eager to use OTT technology to get the most out of the most well-known revenue-generating apps. However, some compelling arguments favor OTT app development as a worthwhile investment to help you achieve your company goals.
Read Also- Top Mobile App Frameworks
Just consider the following suggestions on how the promising future of an OTT platform development company can change your situation in the digital market:
1. Cost-Effectiveness Most American homes choose OTT services to enjoy various video streaming services instead of pricey cable connections, which OTT app development cost about $217.42 per month. It exceeds the total cost of energy, water, gas, and other utilities people use regularly.
2. The advantage of OTT software development is that it gives complete content control to viewers with many possibilities to modify their video streaming activities in a few taps. This is because it is virtually difficult to fast-forward, pause, and start a continuing movie on cable television.
3. The OTT business model's creators focus on its ability to render uninterrupted accessibility of its content across different devices & platforms so that users won't miss out on anything. The mobile app space embraces cross-platform technologies over native app development.
4. OTT app development may be a dream come true for companies looking to make money by creating mobile apps. Most OTT app customers are always willing to pay extra for customized online streaming material with value-added alternatives and additional services.
5. Convenience Viewers can access OTT services anytime and anywhere with an internet connection.
The top advantages of investing in OTT app development
Many people ask why they should spend money creating their own OTT app. There is an easy solution. You can reach your customers directly with your OTT app instead of relying on other third-party ones. Additionally, video curators from any genre can use these tools. And it offers your company a variety of advantages.
1. Conversion Increased via OTT App
If you are a video curator publishing your app online, you could anticipate getting a lot of views on your video immediately. Right? But do you receive that many views? Your response would often be "no." The main reason for this is that other videos are online besides yours. Additionally, countless additional video curators produce equally interesting videos, sometimes even on precisely related subjects. Your video faces fierce competition as a result. You will also gain a dedicated following of viewers who enjoy your films. You may scale up your conversions more quickly as a result. Below are some benefits you get once you have your own OTT app.
2. OTT Promotes a Long-Term Relationship with Customers
Customers visit your movies when you publish them on the website, watch them, and then return. If they are willing to provide their information in many ways, you may be able to maintain it in some instances, but at other times it may just disappear. Therefore, even if you want to, you cannot establish a long-lasting relationship with your clients. However, if you launch your own OTT application, you can regularly engage with your audience through emailers, newsletters, live chats, and live events on your platform. It will assist you in forging closer ties with your customers, increasing their loyalty to your venue.
3. OTT Contributes to Better Consumer Outreach
Today, almost all smart TV owners have at least one OTT app loaded on their set-top box. As a result, OTT apps give filtered access to a much more robust user base. Your smartphone's OTT apps give you an advantage over smart TV apps. It enables you to put your material right into the hands of your audience. Smartphone apps have brought forth this kind of exposure.
4. OTT Apps Aid in Consumer Behavior Analysis
The analytics tools connected to your OTT application can examine customer browsing patterns. You can maintain tabs on their preferences, ad-viewing habits, etc. If you have enough data, you may incorporate recommendation engines into your OTT apps, offering users acceptable content based on their preferences. This would enhance the app's user experience and quickly increase the number of views.
5. OTT Apps Increase Business Value
OTT Apps raise the value of your OTT platform development company. Additionally, programs that run on various OS and have many downloads can boost your brand's recognition. These days, the majority of OTT platform are expanding their reach to multiple platforms, such as Android TVs, Apple TVs, Roku TVs, Fire TVs, LG TVs, Samsung TVs, Xboxes, Playstations, and much more! So why wouldn't you give them a try?
Another main question is how OTT media streaming apps can target a specific market and expand their user bases. Because of how well-known Netflix is, you must be planning to move on with your OTT software development project. It's acceptable if your goal is to build an OTT platform resembling Netflix for your video streaming company. However, it would help if you first spoke with a business strategist to achieve a profitable revenue model tailored to your industry.
Know More- How To Develop A Best Mobile App
Conclusion
Nowadays, everyone's go-to method for avoiding boredom is to stream large amounts of internet content in video, VOIP, audio, gaming, chatting, and other activities. OTT app development development is the next stage to grow your company with the aid of OTT developer who operate remotely as the new norm for software development in these troubled times. Meentosys has an OTT app builder that lets you quickly and easily create your own OTT platform. Contact us for more details.